Daml empowers developers

to build, deploy, and run multi-party applications on a distributed ledger

in days
Daml's underlying technologies
Build your multi-party application with
the Daml SDK
Write business workflows with a purpose-built language. Test and debug your applications instantly while running against an actual ledger.
Integrate with existing systems via
Daml APIs and Language Bindings
Connect your Daml smart contracts to your infrastructure through a choice of mechanisms, including Java, JavaScript/TypeScript, JSON, or gPRC. We provide a React library to simplify GUI integration.
Join an existing ledger with


the Canton Participant Node
Extend a a distributed ledger with your own node for
increased privacy on infrastructure you control.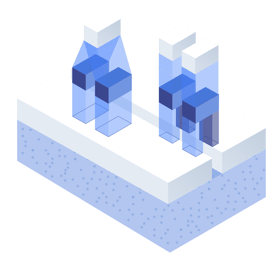 Create your own ledger with a
Canton Domain
Run your own Canton ledger and enhance it with a database or blockchain of your choice.
Work with best-in-class developer tools
Get the latest Daml updates
Sign up to our developer newsletter to keep up-to-date with Daml and developer community news and content.